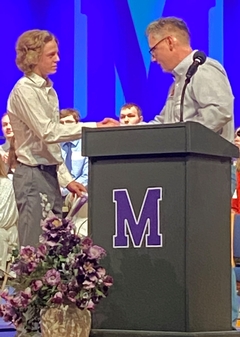 As the 2022 school year has come to a close the Mosinee School Districts welcomed the opportunity to bring the class of 2022 together for the presentation of awards to an amazing group of young adults. The assembled group has an amazing resume of accomplishment and provided for the opportunity to recognize past achievements as well as support them in their future accomplishments. What an amazing group of young adults, certainly makes everyone at CCS incredibly hopeful for the future through the blossoming eyes and the continued accomplishments of this group.
We at CCS have a corporate mission along with an internal desire to help within those future aspirations and in such have created the Complete Control Solutions Engineering Scholarship, which we have supported through varying area school districts over the last several years. Through the formal requirements of the program, we received an amazing group of applicants to consider. With some help from the Mosinee scholarship committee, we were able to sort through an incredibly worthy pool of applicants.
The 2022 CCS Engineering scholarship was awarded to Tanner Fjeldsted. Tanner had an incredibly impressive scholarship submission, which included community involvement, clear career goals and objectives supported through an involvement in the Youth Apprenticeship program. All those details certainly makes Tanner and incredibly worthy recipient. We look forward to supporting Tanner in his future studies at both NTC as well as Michigan Tech, through this award.
Acknowledgment to the entire Mosinee School district in the task of shaping this group (inspiring and guiding throughout), the students for putting forth the effort and striving to be there best, and all the families providing encouragement and corrections where required. All those details, getting us to the point, by being given the opportunity to acknowledge the accomplishments of that journey, as well as the chance to support that next phase of opportunities.
If you would like to know more about the scholarship program offering at CCS please reach out directly to [email protected].